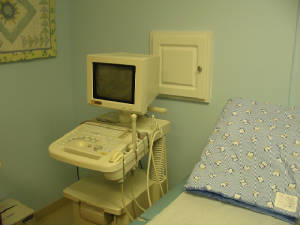 Ultrasound machine includes a TV monitor on the wall for the client/patient to see her baby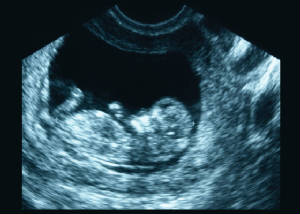 Pregnancy Service's CARE CLINIC of Marquette is now a limited medical facility. Through experienced, licensed medical personnel we offer Pregnancy testing, and limited obstetrical ultrasound.
Under the direction of a Medical Doctor and a Board of Advisors mostly made up of area medical doctors, our Nurse Manager offers women the opportunity to see their baby living in their womb, as well as see the baby's heartbeat.
Through grant funding, Pregnancy Service's CARE CLINIC was able to purchase state of the art Sonography equipment to provide even better services for women with unplanned pregnancies. If you believe you are pregnant, and are about seven weeks from conception, you can call for an appointment for an ultrasound.
Our pregnancy testing, ultrasound, as well as other services of the clinic, are at no cost and confidential.
Women are also referred to a local medical doctor for prenatal care.
If you have any questions about our Medical Services, call Lynn at 906-228-CARE